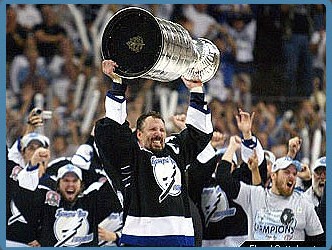 By Rich Libero June 7, 2004

---
TAMPA-- The problem with Dave Andreychuk's golf game is that he had too much time to perfect it during the course of his 22-year NHL career.
This summer, however, Andreychuk won't mind if he's shooting over par. For the first time in his career (after 1,759 regular season and playoff games), the Tampa Bay Lightning captain got his hands on the ultimate prize -- the Stanley Cup.
It was the spring of 2002 and Andreychuk was wrapping up his first season in Tampa. The team was out of the running for a playoff spot. Ironically, he was on the golf course when he made a fateful decision that ultimately led him down the right path.
"I was on the 12th hole at Hunter's Green making a birdie putt and the phone rang. It was (Lightning GM) Jay (Feaster)," Andreychuk said. "He offered me a chance to go somewhere else. He didn't want to make the deal. I agreed with him. I said to him that my job was not done here after one year. I was glad to stick around. I think we did a lot of good things at the end of that, my first year here. We didn't make the playoffs, but we battled very hard, set ourselves up for the next year. Obviously, I'm glad we stuck around."
Indeed he is. While Andreychuk's offensive production began to wane with age, he not only stepped into a checking role, but he also helped young players like Vincent Lecavalier, Brad Richards and Martin St. Louis quickly mature.
"Our core young people started maturing and, of course, Dave and Tim (Taylor) came in to us and really gave them the lay of the land as far as how that locker room is supposed to act and prepare," Lightning coach John Tortorella said.
Andreychuk's credentials are impressive. He started his NHL career in 1982 with the Buffalo Sabres and spent 10 years there before being traded north to Toronto. He played four years with the Leafs and ventured 21 games into the playoffs with Toronto in 1992.
After Toronto, Andreychuk spent three seasons in New Jersey, joining the Devils after their first Cup. He signed with Boston, was traded with Ray Bourque to Colorado in 2000, signed with Buffalo the next season and then decided to join Tampa in 2001.
With 1,597 regular season games, 634 goals and 1,320 points, Andreychuk has the type of credentials and demeanor that makes younger players take notice.
"Andy, he keeps it to himself," Tortorella said. "Tries to be unemotional about it, but this guy wanted this bad. Not to validate everything, I will want to be clear on that, you don't need to validate his career with a Stanley Cup. But the time he's put into this game and what he's done for this game for him to get this done, he's pretty excited. He didn't lead on to it, but I know he's pretty excited, so I'm really happy for him."
An almost sure-fire Hall of Famer, Dave Andreychuk has played 1,597 regular season games, posting 634 goals and 1,320 points.
Andreychuk played with Raymond Bourque in Boston and was traded with him to Colorado. He didn't stick around for another year to win a Cup with Bourque, but the short time he spent with Bourque had an impact on Andreychuk's career.
The two kept in touch and Bourque was instrumental in making a call to the Lightning prior to Game 6 in Calgary. Perhaps in a fit of fate, Bourque's Avalanche were down three games to two against New Jersey in 2001. They beat the Devils at the Meadowlands and went back to Denver to win it.
"The two or three conversations that I have had with Ray in the last couple of days, you know, I learned a lot from watching him in those playoffs. I learned about not what happens on the ice, but the way that he handled himself."
Bourque was on the ice for the last shift of his career when he won his Cup. Andreychuk spent his last minutes in an unlikely spot - the penalty box. He was whistled for tripping with 23 seconds left in the game.
"I was disappointed I couldn't be on the other side with my teammates savoring the moment," Andreychuk said.
If someone told Andreychuk that he'd have to spend 30 seconds in the penalty box in Game 7 of the Finals to win the Cup, he'd have signed up a long time ago.
"I don't believe you can put it into words the things that are going through your mind," Andreychuk said. "The years that you got knocked out in the first round, the years that you didn't make the playoffs, all the players that you played with and, obviously, my teammates. We battled all year long to get home ice advantage and it happens to be that we win the Stanley Cup in a seventh game in our building. I can't tell you, I can't put it into words the way I feel."
"I am going to savor this moment with my teammates and my family and this is going to last a while". -- Dave Andreychuk
Bourque was left sobbing like crazy at the end. Andreychuk took it all with a giant grin on his face. Shortly after his Cup, Bourque announced his retirement. Will Andreychuk follow suit?
"I am going to savor this moment with my teammates and my family and this is going to last a while," Andreychuk said. "Then I will make a decision then, but obviously this is the pinnacle. This is what we play for and it's taken me a while to get here, but I am going to wait and see happens."
Maybe he'll arrive at his final decision on the golf course.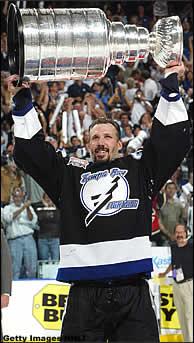 More About Hamilton's Own - Dave Andreychuk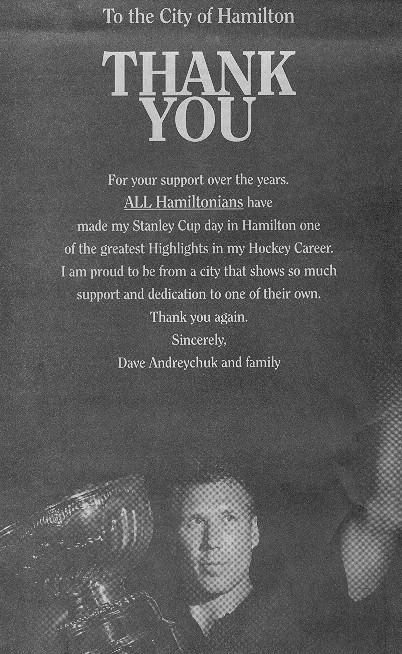 OUR SINCERE PLEASURE DAVE