Sun, February 18, 2007
A sentimental journey for Keon
But not sure if he'll be back
The the 1967 Stanley Cup-winning Maple Leafs, Dave Keon, gestures as he is introduced during last night's 40th anniversary celebration at the Air Canada Centre. (David Lucas, Sun Media)

Dave Keon harbours no ill-will toward Maple Leafs forward Matt Stajan, general manager John Ferguson or the faithful Toronto fans.

In fact, if you looked closely, it almost appeared as if his eyes were getting a bit misty as he made his way along the blue carpet to centre ice at the Air Canada Centre last night for the ceremony honouring the 1967 Stanley Cup-winning team.

Led by fan favourite Johnny Bower, Keon's teammates joined the capacity crowd in clapping for the '67 Conn Smythe Trophy winner, who received a one-minute ovation in recognition of his long-waited return.

"None of us were going to joke with him about finally being back," Bower said. "In my case, I didn't want to bug him because I was scared he would turn around and go home."

Keon was gracious when asked about the reception, but was non-committal about the odds of him coming back.



"This was one night, one weekend," he said. "Let's leave it at that."
from Bill P. -- These may just be the last words we hear from Dave.
Having said that, he was quite appreciative of the warm greeting he received from the cheering throng.
"It was very nice," he said. "People have always been nice to me. I get letters all the time from people who wanted me to come back.
"John (Ferguson) did a nice job of bringing the entire team together."
Surrounded by a swarm of about 40 reporters, Keon added that young Matt Stajan should not be criticized for wearing his familiar No. 14.
"It's unfair (for him to get heat over it)," Keon said. "He shouldn't have to worry about that."
In the end, the ceremony lacked just two things -- the Stanley Cup and louder fans.
Since the Cup rests just two blocks away from the Air Canada Centre at the Hockey Hall of Fame, why could it not be on hand? After all, these players were the last Leafs to have their names engraved on it.
As for the crowd, the applause, while polite, lacked the deafening volume often associated in similar functions like those held in Montreal.
"Montreal has me back every year as part of their alumni," Senator Frank Mahovlich said. "They always honour their great heroes. It's nice to see Toronto doing this for us now, too."
The final word went to Ron Ellis, who made a prediction many fans will hold him to.
"People in Toronto are so loyal to the Leafs," he said. "Well, take it from me, this team will win another Cup. It'll be tough. But when it happens, look out!"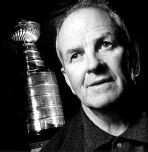 ---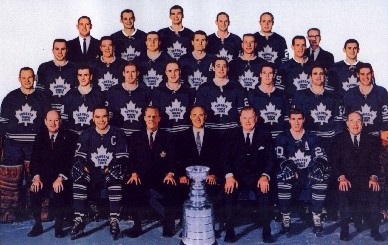 First Row: (left to right) George 'Punch' Imlach (GM and coach), George Armstrong, John Bassett (chairman of the board), C. Stafford Smythe (president), Harold E. Ballard (soon to be infamous owner), Bob Pulford, Frank 'King' Clancy (asst. manager/coach) Second Row: Johnny Bower, Dave Keon, Larry Hillman, Red Kelly, Frank Mahovlich, Tim Horton, Bob Baun, Terry Sawchuk Third Row: Ron Ellis, Marcel Pronovost, Peter Stemkowski, Allan Stanley, Eddie Shack, Larry Jeffery, Mike Walton Fourth Row: Bob Haggert (trainer), Milan Marcetta, Brian Conacher, Jim Pappin, Aut Erickson, Tom Naylor (assistant trainer)
---
GOTTA LOVE IT !!!!
40 years ago -- good times and good memories!

THANK YOU!!!!!!!!!!!!!14
Although this petition failed to change Mr. Keon's mind you can still sign it and state how you feel about Dave. But do not be misled, Dave is not coming back to be honoured no matter how we the fans want it to happen.
Sign the petition here.